Hi everyone! We here at Gingham Buffalo are so excited to start sharing ideas, tips, and how-to's with you through our GB blog.
We wanted to start with one of our favorite things- a DIY project using Annie Sloan Chalk Paint. If you're new to chalk paint, no, it's not chalkBOARD paint. It's actually a water-based paint that can go on almost any material, with little to no prep—that means NO sanding, NO priming.
But beware- if you use it once, you'll never want to use any other paint!
Anyway, onto the project: a cute little table that had quite the previous life before it made its way to GB. As you can see, it had been painted a number of times, and one of those times resulted in some pretty major dripping. Our goal was to keep the rustic look of the table by giving it some texture and a fresh coat of paint, but also get rid of the drips and (dare we say ugly?) rust color.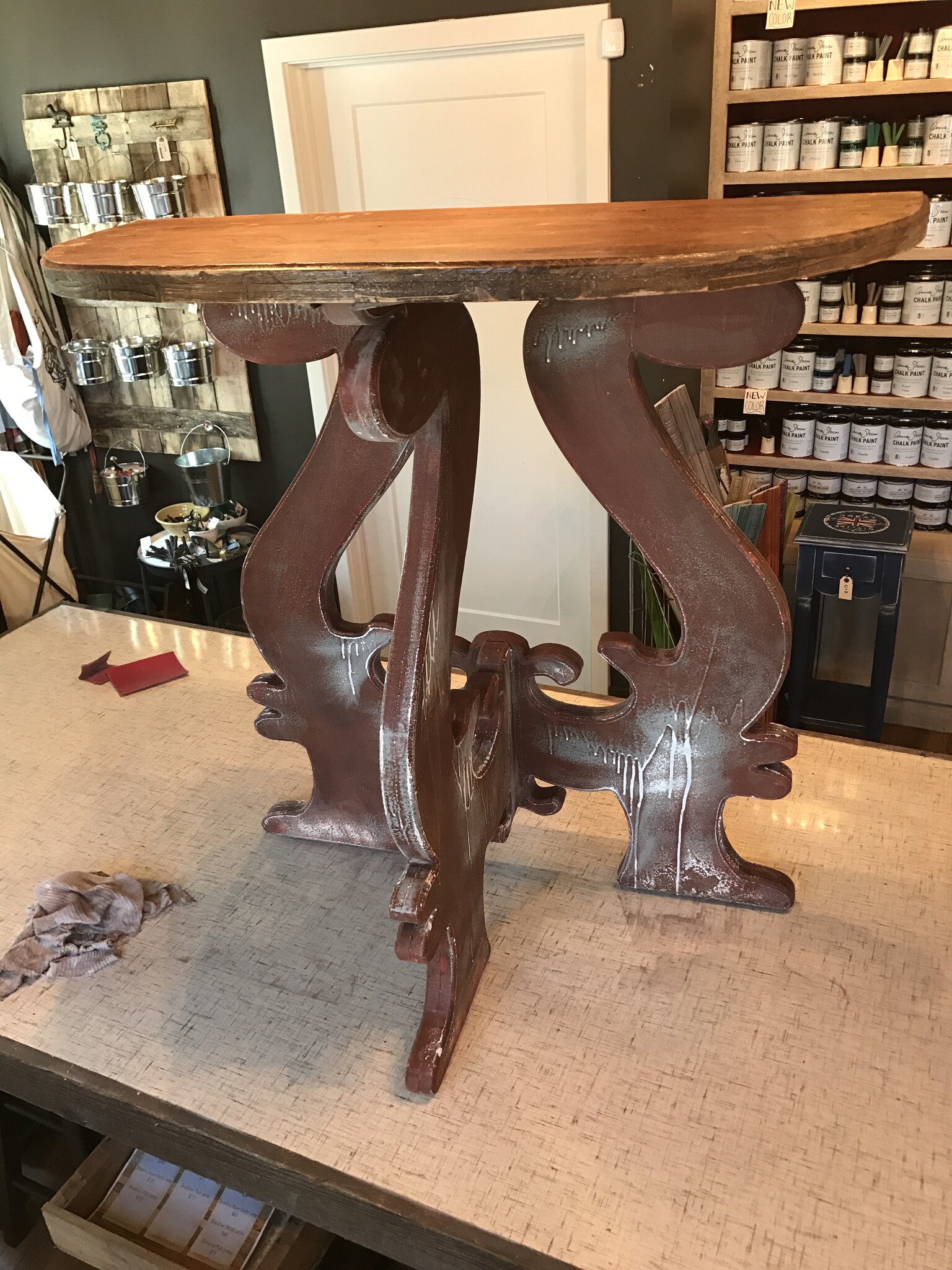 Before painting, we did sand off the drip marks (normally you don't sand, but these drip marks were exceptionally bad).
The base of the table was painted with two coats of Annie Sloan French Linen. For the second coat we used small semi-circle brush strokes instead of long strokes to create texture. Then came the fun part: dry brushing on the edges with Annie Sloan Old Ochre to give the table some dimension.
To dry brush, dip your brush in a small amount of paint and rub it off on a cloth so it looks like you have almost nothing on your brush. Then use quick, light strokes until you achieve your desired look. You can do just the edges for some dimension or the entire piece for a ton of texture and character.
We sealed the base of the table with a coat of clear wax (applied after the paint had completely dried) and the top with a coat of dark wax. It's amazing what a single coat of dark wax can do to plain wood. GORGEOUS!
Please send questions, comments, or ideas for future blogs. We hope to see you in the store soon!
XO, GB
Sources:
Table: Estate Sale
Table Base: Annie Sloan French Linen, Annie Sloan Old Ochre, Annie Sloan Clear Wax
Table Top: Annie Sloan Dark Wax